Thursday, October 18th, 2012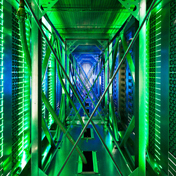 Google is notoriously secretive about its data and where it is housed. For the first time they "open the doors" and allow an inside peak.
Take a very guided tour of several key data centers, with shots by professional photographers and some info about what's going on. It's a well designed tour that looks more like a photo gallery – but there's also a Street View, and a panoramic look at the inside of a data center.
See if you can spot the Storm Trooper and the small R2-D2 guarding the place. Tip: you'll see them in the Street View tour of the Lenoir, NC Data Center – but you'll have to be quick!
See the Google Data Centers